Why Justin Trudeau is not the leader many believe he is
Grant Dawson, University of Nottingham
Stephen Harper, Canada's former prime minister, might well have been less colourful and pleasing to eye and ear than the current Canadian leader.
But Harper focused on what he believed Canada needed to get ahead in the world, not on his image and on making Canadians feel good about themselves. This contrasts markedly with the approach under Prime Minister Justin Trudeau.
How much longer will Canada have to pay the price so Trudeau can remind us that he is a human rights activist?
Take, for example, the inquiry into violence against Indigenous women and girls, and the flow of refugees and asylum seekers coming to Canada.
One of the most sensitive issues during Canada's 2015 federal election was the debate about creating an inquiry into missing and murdered Indigenous women and girls. Harper resisted creating one, despite years of urging by Indigenous communities, the United Nations and human rights groups. Trudeau committed to launching a national inquiry during the political campaign.
Canadians finally believed this issue would be addressed, and there was new hope for reconciliation. Trudeau promised a "total renewal" of Canada's relationship with Indigenous communities. Carolyn Bennett was named Minister of Indigenous and Northern Affairs, and assigned to the National Inquiry into Missing and Murdered Indigenous Women and Girls.
But Bennett, the so-called minister of reconciliation, has proven unable to make much progress on the inquiry.
It languishes to this day, money wasted, mired in recrimination and hostility. Expectations dashed, some from Indigenous communities say they have been failed once again.
In a recent cabinet shuffle, Trudeau split Bennett's ministerial portfolio, a reflection of her performance in a hard job, but she remains lead minister for the inquiry. Expectations remain low.
Polished, poised
Harper lost the 2015 election for several reasons – he'd spent a long time in power, there was a charismatic new opposition leader on the scene, and he seemed to lack patience any longer to provide the morally superior rhetoric that Canadians love. This nationalistic self-praise, proclaiming Canadians' virtue over and above all other countries, is what Canadian scholar Kim Richard Nossal aptly termed "ear candy."
Not Trudeau. Polished and poised, he always says the "right" thing. If Trudeau's Canada is famous for anything in the world, it is for setting a good example to other countries.
Trudeau implemented his election campaign promise to allow 25,000 Syrian refugees expedited entry to Canada. And when U.S. President Donald Trump moved in January 2017 to ban travellers from targeted Muslim-majority countries, Trudeau sent a tweet depicting Canada as a tolerant haven, and emphasized its welcoming, open borders.
Trudeau's approach to the Syria crisis and to immigration generally is in stark contrast to the Harper government's. His viral tweet last year was spun into a widespread media assertion that Canada would accept everyone who came. Perhaps this was exactly what he wanted: To showcase his human rights credentials and Canada's friendliness and compassionate attitude compared to Trump's.
However, Trudeau's tweet created a huge problem.
When thousands of Haitian asylum-seekers, afraid Trump might end their temporary protected status that allows them to remain in the U.S., illegally crossed the border into Québec, the Trudeau government started singing a different tune. In July and August 2017, 250 people a day crossed the border, many of them Haitians. Ministers rushed to explain there was no open invitation: There are rules that must be adhered to, and claiming asylum is not a free ticket into Canada.
Tent camps for the initial refugee processing have been set up along the Canada-U.S. border. And more people may come. Canadian officials are gearing up for an influx of migrants heading north in the coming months. Cancellation of protected status for the 50,000 Haitians in the U.S. has been confirmed by the Trump administration, effective July 2019. It's also announced that protected status for the nearly 200,000 Salvadorians living in the U.S. won't be renewed either.
There's little doubt those migrants are eyeing Canada.
But Canada is not prepared to accept everyone, despite Trudeau's tweet. It ushered in the 25,000 Syrians shortly after his election, but after that it was back to business as usual, regardless that the scale of need was in the millions.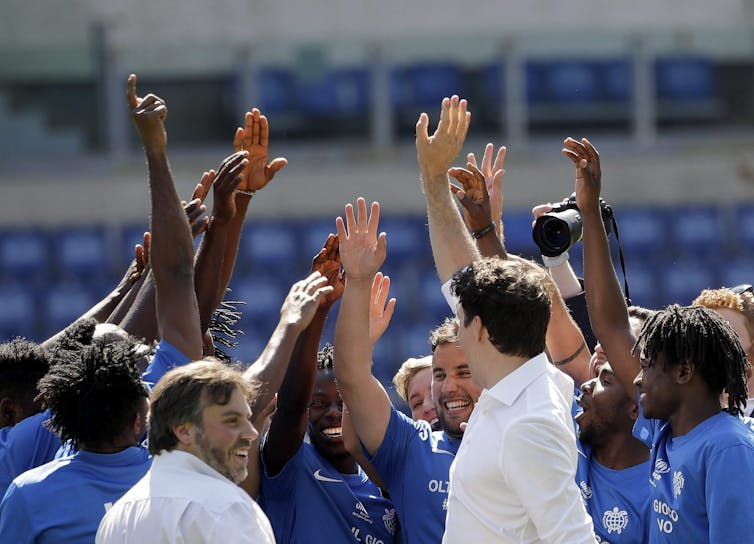 Far away from the world's war zones, Canada has always been able to roll out the welcome mat when it wanted. That's why closer to home, the asylum issue with the U.S. is causing serious concerns for the Trudeau government — it exposes the difference between the nationalist self-congratulation that the prime minister trades in, and what Canadians are willing to accept in practice.
Many countries aren't so lucky. Consider, by comparison, the refugee situation for Germany as it existed in 2015. Some days, more than 10,000 Syrian refugees arrived in Germany. Almost 20,000 arrived in one weekend, 10,000 in Munich alone.
Canada has not had to cope with such numbers. What's more, Canada is tough on those lucky enough to arrive here. Since 2000, at least 16 people have died in Canada's system of immigration detention centres.
And yet Trudeau continues to burnish his personal political image and to poke Canada's greatest ally in the eye — most recently in Davos.
A Trump snub?
France's Emmanuel Macron and China's Xi Jinping have mounted apparently successful charm offensives to advance key priorities with Trump. Not Canada's leader. Trudeau did not bother to meet Trump at the recent Davos World Economic Forum so that, he said, other leaders could have a chance.
Some have pointed to Trudeau's apparent charm offensive with Ivanka Trump as clever and strategic. In addition to working with the president's daughter on issues facing women in the workplace, he attended the Canadian Broadway play, Come From Away, with her in March 2017. But the play itself was about Canadian inclusiveness and support for foreigners in need, not-so-subtly underscoring Trudeau's criticism of Trump's public policy. Is this a winning strategy?
For Trudeau, everything seems to be about glorifying Canada, and himself by extension. That's not always in the best interests of Canada, but it is what Canada gets in abundance from its current prime minister. Harper, despite his private reservations about former president Barack Obama, never publicly threw shade at his fellow leader.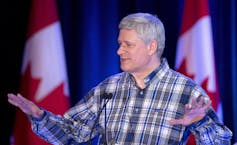 Harper was less popular than Trudeau, but Canadians could count on him for one thing — not making his personal image on the global stage a top priority. What Trudeau says obviously appeals to Canadians. But do his actions back up his words? On Indigenous issues, on immigration, on welcoming refugees, the answer is no. Whether Canadians agreed or disagreed with Harper, his actions matched his words.

Trudeau almost has it all. He's got that famous name. He's got the central casting looks. He's got the top job in Canada. The one thing he needs is for Canada and the world to regard him as human rights activist, because even when it disadvantages the national interest, that's seemingly less important than his own personal interests — a far cry from Canada's previous prime minister.

Grant Dawson, Assistant Professor of Social Science and International Politics, University of Nottingham

This article was originally published on The Conversation. Read the original article.

https://www.nationalnewswatch.com/2018/02/04/why-justin-trudeau-is-not-the-leader-many-believe-he-is/#.WneiA66nGUm

Tags: alberta conservatives, Alberta news, conservatives, natural gas, oil, pipelines, right for alberta, Why Justin Trudeau is not the leader many believe he is


Categorised in: Canadian News