With Trump Threatening Nafta, Canada Opens Its Doors to Mexicans
by Josh Wingrove
Canada has lifted visa requirements for visitors from Mexico in a bid to boost tourism and investment — with a caveat that could see the barrier reimposed as Donald Trump's election threatens to shake up North America.
The visa rule was imposed in 2009 to stem a spike in refugee claims, becoming a thorn in bilateral ties and cutting the number of total Mexican visitors to Canada by two thirds. Prime Minister Justin Trudeau announced a resolution during President Enrique Pena Nieto's visit to Ottawa in June, and details have since emerged ahead of Thursday's implementation date.
Mexico will help weed out illegitimate claimants from flying to Canada with increased screening and information sharing, while Trudeau's government has reserved the right to re-impose restrictions if it sees too many refugees. Pena Nieto's envoy in Ottawa believes the move will boost tourism and commerce, and that the two countries will be able to mitigate new claims.
"We see there's enormous potential for increasing trade both ways, increasing investment both ways. And I think this issue will trigger that," Ambassador Agustin Garcia-Lopez Loaeza said in an interview, predicting the number of visitors to Canada will rise to 300,000 in 2017 from about 200,000 this year.
The warming of relations comes as Trump prepares to take office with calls to renegotiate the North American Free Trade Agreement and end illegal Mexican immigration to the U.S. While Canada could face its own surge of migrants fleeing a Trump crackdown, it has less to lose than Mexico on Nafta. If the U.S. withdraws, an earlier bilateral pact with Canada will kick in.
'Bogus' Claims
Refugee claims by Mexicans in Canada surged from 1,421 in 2000 to 9,467 in 2008, the last full year before the visa was imposed. As a share of Canada's total refugee claims, Mexico rose to 26 percent from 4 percent. Trudeau's predecessor, Stephen Harper, imposed the visa to stem the flow of claims, which then collapsed because the vast majority were denied. Some 89 percent of Mexican refugee cases were rejected in 2008, compared to 44 percent for all other countries combined.
"There's a lot of cost associated with processing and deporting people who make bogus refugee claims," said Michelle Rempel, an opposition lawmaker who served in Harper's cabinet. "You don't put in place a visa requirement for a country like Mexico, with our trading relationship, unless there's just cause. There was significant just cause."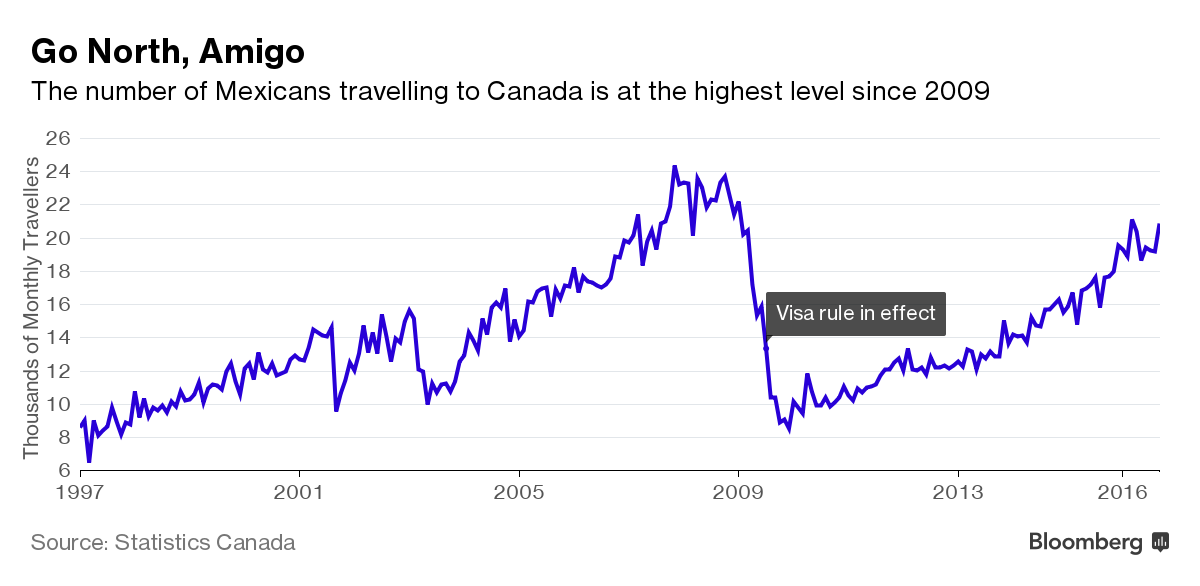 Refugee advocates say the visa requirement closed Canada to legitimate claimants. Trudeau campaigned last year on "immediately" lifting the ban; instead, he's doing so 13 months into office and attaching a caveat. If Canada receives more than an unspecified number of refugees from Mexico, it is threatening to require a visa once again. Trudeau took a similar approach to Syrian refugees, initially expanding Canada's intake only to reduce it once again after a surge.
The visa requirement "closed an opportunity for people facing serious human-rights abuses in Mexico from being able to find protection in Canada," said Janet Dench, executive director of the Canada Council for Refugees, a non-profit advocacy group. "Unfortunately, that is the case in most of the world where the worst abuses are happening: Canada imposes a visa."
Business Impact
Mexico viewed the visa as a "cold shoulder" from Harper, Garcia-Lopez said. Mexican investors and professionals avoided the country rather than toil with a visa application, which would mean delays and require frequent travelers to surrender their passport briefly, the ambassador said. Executives said they wouldn't visit Canada until the visa was lifted, he added. "It's a question almost of principle, it's a question of will."
The barrier didn't stop business. Trade between the two countries totaled C$26.3 billion ($19.7 billion) in 2015, up from C$20.6 billion in 2010, the first full year after the visa requirement.
There have been hiccups. Mexico's Grupo Bimbo SAB de CV completed a C$1.6 billion acquisition of Canada Bread Co. in 2014 only to since face visa delays bringing staff between the countries, the ambassador said, adding he expects a "stampede" of investment now that the visa requirement is gone.
Road Ahead
"The impact for Mexico has to be positive," said Alejandro Martinez, a trade expert and partner at Baker & McKenzie LLP based in Guadalajara, Mexico, who is also president of the Canada Alumni Network in Mexico. "For businessmen who want to do business in Canada, it'll be easier for them to take a plane and fly the next day to seek out new offers, check out an expo, get involved in a trade show, position their products."

Canadian Immigration Minister John McCallum declined to say how many refugees would trigger new restrictions. "We hope that the numbers will be moderate, but as a sovereign country, we retain sovereignty over our visa position so we will have to monitor it," he told reporters Nov. 23. Olivier Jacques, a Canadian immigration official in Mexico City, echoed this speaking to a parliamentary committee a week earlier. "A number of risks have been identified," he said, but the visa requirement was lifted because of Nafta and the "unique relationship" between the countries.

Garcia-Lopez said he doesn't expect as many refugee claims now because security and human rights have improved in Mexico since 2009, as has Canada's review system. However, persistent human rights concerns have reportedly held up U.S. anti-drug funding and drawn steady condemnation from advocacy groups. Nonetheless, the ambassador doesn't fear a hair-trigger return to a visa requirement.

"I don't think it's black and white. I don't think it's, well, you arrive at this threshold and back you go to the same system," he said. "If we have a problem of a surge, we will talk about what the measures are we can take together."

https://www.bloomberg.com/news/articles/2016-12-02/with-trump-threatening-nafta-canada-opens-its-doors-to-mexicans

Tags: 2nd amendment, Canada Opens Its Doors to Mexicans, conservative news, conservative politics, gun control, gun laws, gun news, gun rights, right wing news, right wing politics, rightwing news, rightwing politics, With Trump Threatening Nafta


Categorised in: Uncategorized